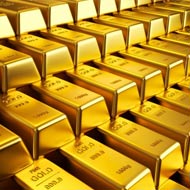 From a technical perspective, the outlook for gold is looking increasingly bearish, according to analysis by Australia New Zealand Bank (ANZ) , which says the recent sharp declines open the risk of much sharper corrections.
If the yellow metal slides below a key support level of USD 1,150, the selloff could accelerate to USD 1,030 or even USD 870 an ounce - levels not seen since 2008 during the global financial crisis, Victor Thianpiriya, commodity strategist, Asia at ANZ wrote.
"Closing near the lows of the month [June] underscores the risk of much deeper corrective declines... Caution is therefore, key," Thianpiriya said.
"Volatility remains high. At times like this, the market can ignore fundamentals, and the technical picture takes on greater importance," he added.
Last week, gold fell to its lowest level since 2010 at USD 1,180, with losses in the precious metal amounting to 22 percent since the start of the aggressive selloff in mid-April.
The yellow metal posted its worst quarterly performance on record, down 23 percent over the April-June period.
Relentless selling by exchange traded funds (ETFs) has been behind the poor performance of the precious metal in the recent months, outweighing physical demand for jewelry, bars and coins.
Thianpiriya noted that a close above USD 1,272 could turn the negative bias in gold around, and allow for a period of rebounds.
However, some strategists believe gold has entered a long term bear market, pointing a tapering of the Federal Reserve`s unprecedented monetary stimulus alongside a benign global inflationary environment as major headwinds for the metal.
Many banks have slashed their forecasts for gold in the recent weeks, the most recent being HSBC, which predicts that the average gold price will be USD 1,396 in 2013, down from USD 1,542.
Among the most bearish, however, is UBS , which warns that gold is at risk of becoming "obsolete" as the Fed winds down its stimulus program . It believes prices could fall to USD 1,150 in the coming 3 months.